Auf deiner Seite oder deinem Blog einfügen

Unangemessene Inhalte oder verletztes Urheberrecht melden
Veröffentlicht: 21.06.2007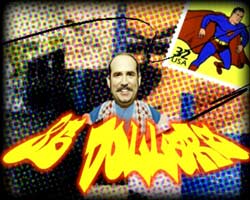 Ceci est une compilation de différent morceau réalisé entre 1998 et 2006.

La plupart de ces musiques ont été présenté lors de concours musicaux en Europe (Allemagne, France, Belgique, Hollande). Elles ont toutes rencontrée un franc succès, et m'ont permis d'avoir de très bon résultat.

85 dollars est une musique du genre mashup (comme What & Human-H). Elle est composée à partir d'une musique de Georges Brassens, Edith Piaf, et d'une vieille pub américaine pour des patates, d'une pub pour les céréales avec superman en guest star, et enfin de la fameuse pub de monsieur propre des années 60. Vous trouverez le clip de cette musique ici (réalisé avec Monsieur Moyen). L'original est un clip temps réel win32 en haute resolution.

Cet album n'est pas du tout orienté funky, bien que l'album débute avec Funkastar (disponible également sur la compile french collective ep #1).

Bonne écoute.
Rezension zu
8 rezensionen
more. more? MORE!
Diese Rezension melden (Spam, Beleidigung,..)

07.08.2007

•
Groovy funky vibes by Mister Electric Demon could take your soul away from you if you are ready to dance all night long to it. Get heart breaking, body shaking beats to become a dance devil yourself! - 85 dollars you say? shish! It's much much more!
i really like it
Diese Rezension melden (Spam, Beleidigung,..)

25.06.2007

•
Weird, very stylish, demoscene-style.. but.. on Human-H you use some "ugly" copyrighted Samples.. I wish i was a little bit taller, i wish i was a baller, i wish i had a girl, i would call her ...
Magnifico
Diese Rezension melden (Spam, Beleidigung,..)

12.12.2008

•
So Cool!!!!!!!!!!!!!!!!!!!!!!!!!!!!!!!!!!!!!!!!!!!!!!!!!!!!!!!! Wonder. Puffy Eyes
D'ENFER!!!! Normal pour un Demon...
Diese Rezension melden (Spam, Beleidigung,..)

18.10.2007

•
Voilà un style retro 80's/90's qui me parle à donf !!! OK, ça démarre sur les chapeaux de roues avec Funkastar et c'est pas pour me déplaire.. Le choix des sons et la construction des titres sont suffisament torturés et pourtant super précis pour que mon cerveau soit scotché. Y'a dans tout ça un somptueux mélange qui rappelle d'évidentes références, on peut tous s'y retrouver avec grand plaisir, entre autres les "rythmes digitales" ou "beastie boys" ... Je suis sur le cul, ça part dans tous les sens, et à chaque titre l'ambiance est prenante et donne envie de bouger.. Ici, la maitrise est le maitre mot, ça grouille d'idée, yo man, je te découvre et suis ravi !!!! Super boulot, je vais me jeter sur tes autres galettes, favoris direct !!! BRAVO, c'est la classe ici.. ;)
yeah ça BoUbaZaTh grave par là!
Diese Rezension melden (Spam, Beleidigung,..)

03.04.2009

•
premier truc que j'ai écouter de ce site!Le son et de qualité moyenne;mais les morceaux, les idées,la maitrise....c'est un régal à écouter mis à part quelques morceaux sans plus. En gros ça vaux le détour grave! Et encore j'ai pas tout écouter de Mr demon!
pas fan de hip hop
Diese Rezension melden (Spam, Beleidigung,..)

04.02.2008

•
ok, mélange entre jazz et hip hop... à la base pas vraiment mon genre, si ce n'est évidemment cet dose de "scenemusic" par dessus qui font de cet album une excellente découverte.. Enfait c'est comique, parceque je sais que j'ai discuté avec toi en d'autre occasion (ton vrai nom ne m'est pas du tout inconnu ;) mais je ne l'associait pas à un artiste. .bizarre . Bref.. j'adore !
Funky jazz
Diese Rezension melden (Spam, Beleidigung,..)

07.10.2008

•
Funky jazz beats, lots of synth, some of it even reminds me of "the art of noise" stuff.
Move Move !
Diese Rezension melden (Spam, Beleidigung,..)

01.06.2010

•