Embed on your website or blog

Become a fan

Become a fan to receive the latest news from this artist
| | | | | | |
| --- | --- | --- | --- | --- | --- |
| 1 | | | | 26812 Listens | |
| 2 | | | | 8737 Listens | |
| 3 | | | | 11671 Listens | |
| 4 | | | | 12711 Listens | |
| 5 | | | | 7377 Listens | |
| 6 | | | | 9272 Listens | |
| 7 | | | | 6394 Listens | |
| 8 | | | | 5618 Listens | |
| 9 | | | | 5240 Listens | |
| 10 | | | | 6325 Listens | |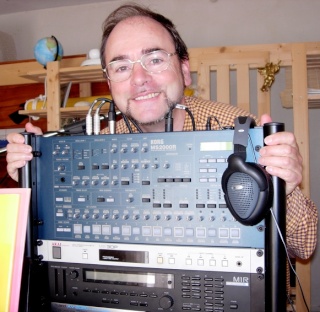 A French cross-cultural anthropologist with a background in Asian studies, Marc M. Bosche (mmb) has found in music composition a way to explore mutual understanding between cultures of East and West.

For a quick visit of his home studio, please click.
For a more extensive search of his music website, please click.


" Music is really a great media to convey the intercultural message of mutual understanding among nations and people.
I hope you'll enjoy these musics which combine traditional sounds from Asia (emulated through realistic samples by Roland and synthesis) and a more Western touch.
Enjoy ! "

mmb (Marc Bosche - France)

Marc Bosche (mmb), anthropologue des relations interculturelles : ses travaux portent sur la découverte contemporaine de l'Asie orientale. Il prolonge dans la composition musicale le dialogue des cultures.
Cliquez ce lien si vous souhaitez découvrir l'intégralité de son site musical personnel.

mmb digidesigns lab combines several types of electronic musical production equipment : realistic samples by Roland XV/SRX series & Korg M1R ; Virtual analogue modelling by Korg MS2KR. A classical (possibly vintage) MIDI interface (Akai patch bay) is used for recording and sequencing. Mix is analogue (Fostex 350) and gives its distinctive warmth to the sound.


Read more